DiPaola's Sausage Stuffing
Prep: 20 minutes
Bake: 40 minutes
Ingredients:
¾ lb. bulk DiPaola turkey sausage
¾ cup finely chopped onion
½ cup chopped green pepper
½ cup chopped celery
½ cup margarine or butter
2 Eggs
1-teaspoon poultry seasoning
1/8-teaspoon pepper
5 cups dry white bread cubes (7 slices)
5 cups crumbled corn bread (see note below)
¾ cup toasted chopped pecans
1½ cups chicken broth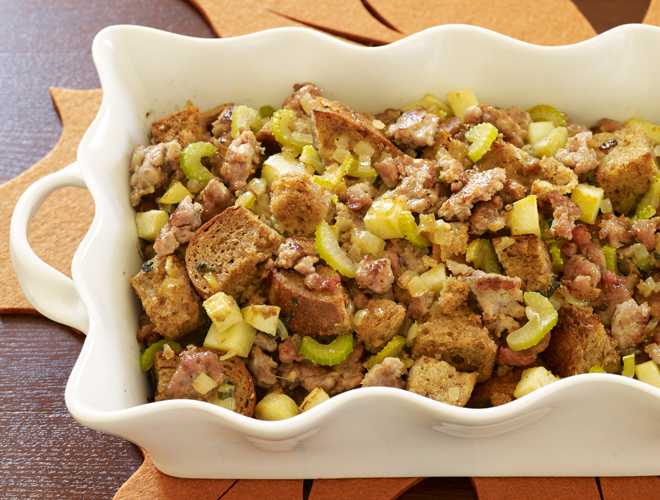 Directions
In a large skillet cook sausage until brown. Drain, reserving 2 Tablespoons of the drippings. Set aside. In same skillet cook onion, green pepper and celery in hot margarine or butter until tender. In a large bowl use a fork to beat eggs; stir in poultry seasoning and pepper. Add bread cubes and cornbread; toss until coated. Add sausage, reserved drippings, vegetables and pecans. Add enough broth to moisten (3/4 to 1 cup), tossing to mix well. Use to stuff one 10 lb. turkey or place stuffing in a casserole, drizzle with enough of the remaining chicken broth (1/4 to 1/2 cup) to make a stuffing of desired moistness. Bake casserole, covered, in a 325 degree F oven for 40-45 minutes or until hot. Makes 10-12 servings.
Note:
For the corn bread, you can make your own recipe or use a packaged mix.  For 5 cups, you will need one, 10 oz package corn bread mix.  For dry bread cubes, cut bread into ½ inch square cubes.  Spread in a single layer in a 15" x 10"x 1" baking pan. Bake in a 300 degree F oven for 10-15 minutes or until dry stirring twice: cool.  (Bread will continue to dry and crisp as it cools) Make –Ahead Tips:  As early as 7 days ahead, prepare the corn brad, crumble and freeze.  Dry bread cubes and freeze.  One day ahead chop vegetables; cover and chill.  Coo drain, and refrigerate sausage.